28/01/2019
FCC Construcción wins the extension contract for the San Juan de Dios Hospital (Seville)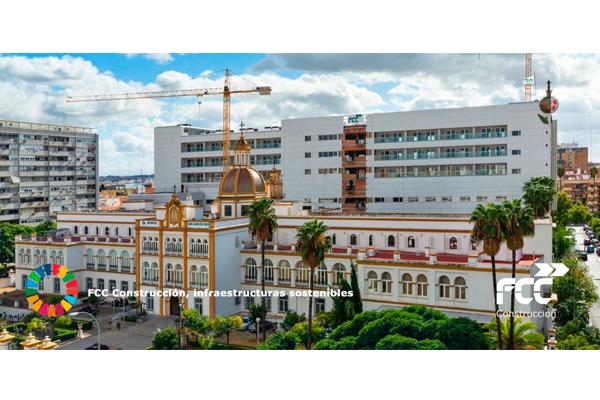 FCC Construcción has obtained the contract for the last expansion phase of the San Juan de Dios Hospital (Seville). The expansion works of the San Juan de Dios Hospital have consisted of three phases developed entirely by FCC Construcción and with a total amount between all the phases of more than 10 million euros.
The first phase consisted in the realization of the demolitions, earthworks, foundations, execution of screen walls and slabs. The second and third phases consisted in the development of the structure of the new building, the completion of the exterior enclosure of all the facades, waterproofing and roofing.
The last phase recently awarded, has a budget of 24.9 million euros and will end the expansion of the hospital. The works consist of the completion of the interior of the new building, including: masonry, carpentry, coatings, interior locks and paintings, electromechanical installations, communication and security.
FCC Construcción has extensive experience in the execution of international hospital infrastructures, Ciudad de la Salud and Luis Chicho Fábregas Hospital in Panama; Enniskillen Hospital, in Ireland, or the Cojutepeque Hospital, in El Salvador. At a national level, FCC Construcción has developed: the Maternity of O'Donell (Madrid), Hospital de La Línea (Cádiz), Son Espases Hospital (Mallorca), General Hospital of La Mancha Centro (Ciudad Real), Ciudad Real General Hospital, Hospital de Arganda (Madrid), Hospital de Torrejón (Madrid), Hospital de Salamanca, Reina Sofia Hospital (Murcia), University Hospital of Valdecilla (Santander), Campus Health Hospital of Granada and the Hospital of Cartagena (Murcia). To this we must add the recently awarded hospital of Soria.