FCC Construcción progresses in building the Khurais bridge in the Riyadh Metro project (Saudi Arabia)
14/11/2017
FCC Construcción progresses in building the Khurais bridge in the Riyadh Metro project (Saudi Arabia)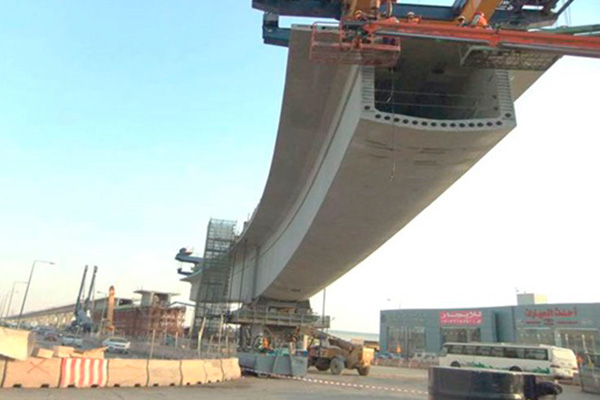 FCC Group's infrastructure area, the leader of the FAST consortium, is progressing at a good pace with the work in package 3 of the Riyadh Metro, specifically in building the Khurais bridge.
This viaduct is located on line 6 (purple line), crossing one of the most important arteries in the city, the main Khurais Road.
The viaduct, also called the "Khurais Bridge," is the viaduct with the longest span in the project – five spans and 384 metres long.
Achieving this milestone in January 2018 will finish the work on the elevated section of line 6, meaning the completion of a total 16.3 km of viaducts of various constructional types:
9.5 km of PCB (Pre-Cast Beam): placement of precast beams.
5.7 km of PSM (Pre-cast Segmented Method): placement of precast segments span by span.
0.6 km of CIP (Cast In Place): concreted in place.
0.5 km of BCM (Balanced Cantilever Method): placement of the segments with successive cantilevering.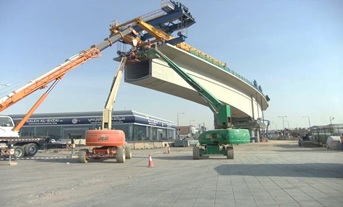 The BCM (Balanced Cantilever Method) was chosen for its construction, the versatility of which allows for longer spans and alignments with smaller curvature radii. This this method is based on placing the bridge segments (prefabricated segments) from a fixed point centred on the pier and advancing successfully by cantilevering in both directions.
The importance of the know-how of FCC Construcción in building this viaduct, both of the central technical services and the site team, stands out, complying with all the project requirements in cost and schedule.