The Wanda Metropolitano, built by FCC Construcción, awarded an honorable mention by the international magazine ENR, the best sports infrastructure in the world in 2018
12/07/2019
The Wanda Metropolitano, built by FCC Construcción, awarded an honorable mention by the international magazine ENR, the best sports infrastructure in the world in 2018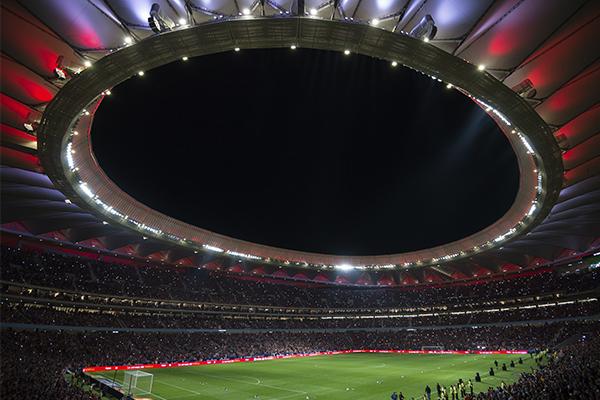 The Wanda Metropolitano, built by FCC Construcción, awarded an honorable mention by the international magazine ENR, the best sports infrastructure in the world in 2018.
The stadium complies with the highest UEFA standards and is today an infrastructure of the highest category. Last year it was awarded as the best sports venue in the world 2018 at the prestigious WFS Industry Awards, ahead of giants such as CenturyLink Field in Seattle, Mercedes Benz Stadium in Atlanta and other stadiums. Since its inauguration, it has also hosted the football matches of La Liga, Copa del Rey, Spanish national team, etc., other events such as major concerts, business and advertising events and has even hosted television programs.
For the capacity of the venue and the environment that serves the stadium, for the convenience and speed of access and evacuation of the spectators, for the high degree of comfort perceived in all seats, for the services of restoration, toilets, interior design of all the areas of the stadium and especially its VIP areas, by the 1,000 interior parking spaces connected by elevator with the boxes, and of course, by a perfect design of visual angles that guarantee the best enjoyment of the show. It is the first stadium with 100% LED lighting in the world, it has a Wi-Fi connection, and it is the first stadium in Europe with a 360º ribbon board ring. These are some of the technological innovations that are incorporated into the stadium, improving the show and placing it at the forefront of technological development.
The headquarters of Atlético Madrid, occupies a total area of 88,150 square meters and has a capacity to accommodate more than 68,000 fans, distributed in general capacity and VIP area. In addition, it has more than 1,000 parking spaces for fans inside the stadium and 3,000 outdoor parking spaces.
FCC Construcción has executed more than 25 large facilities around the world that have hosted some of the main sporting events in disciplines such as football, tennis, motorcycling and athletics.
You can see the winners by accessing the link.