12/12/2016
Load testing takes place on the Almonte viaduct built for ADIF by FCC
The FCC Construcción team responsible for building the viaduct over the River Almonte carried out load testing during the week of 28 November to 1 December.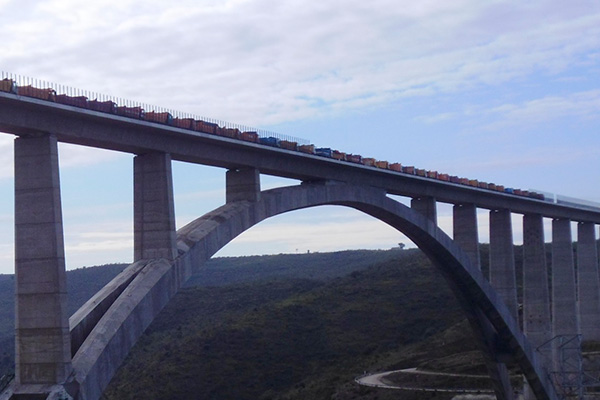 The purpose of the load testing is to check that the viaduct structure's response to service loads is in accordance with the design project, thus guaranteeing the structure's reliable performance in its future functionality.
On high-speed railway viaducts, even before the railway superstructure (slag, rails, catenary ...) has been installed, both a static load test and a dynamic load test are carried out using lorries.
This confirms that the structure's response matches the response envisaged in the project design stage. The viaduct over the River Almonte is located in the Alcántara Reservoir-Garrovillas section of the Madrid-Extremadura high-speed rail link. It is a unique structure given both its type (arch bridge) and its size (384 m arch span and 996 m in length), and therefore requires a number of specific factors be taken into account in order to set up the most appropriate static and dynamic load tests.
The load test itself is carried out using a total of 36 x 3-axle lorries, loaded in such a way as to ensure a gross payload of 26,000 kg each. Measurements are taken in the centre of the spans and in the deck support sections on piles and stirrups.
A total of 19 loading hypotheses were implemented to exhaustively test the arch section and simplifying the access bays. Once load testing has been successfully carried out, the viaduct is ready to receive the railway superstructure to be fitted, which will mark the conclusion of the construction of this world record-breaker among railway bridges of its type.