The Arroyo de la Charca - Grimaldo section of the Madrid - Extremadura high speed line, built by FCC Construcción, enters its final phase
20/11/2017
The Arroyo de la Charca - Grimaldo section of the Madrid - Extremadura high speed line, built by FCC Construcción, enters its final phase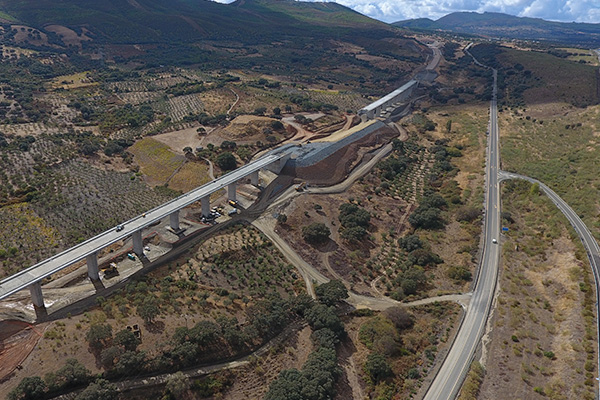 The Arroyo de la Charca - Grimaldo section of the Madrid - Extremadura high speed line, built by FCC Construcción and Convensa, is progressing at a good pace and is entering its final phase. Currently, the project is 80% complete.
The project is located between the municipalities of Malpartida de Plasencia and Cañaveral in the province of Cáceres. It is 6.4 km long with four viaducts, two underpasses, one overpass and eight culverts. The earthmoving for the infrastructure has involved 1.15 million m³ of excavation in cutting and 1.33 million m³ in filling to form embankments.
The most important elements in the section that FCC Construcción and Convensa are building are four isostatic viaducts of precast beams, the Rivero viaduct (350 m long), the Viña del Fraile viaduct (280 m), the El Judío viaduct (140 m) and the Perbetano viaduct (175 m) which, with the concreting of the last phase of its deck in the near future, will complete all the structures in the project, pending finishing touches.
FCC Construcción has an important portfolio in the construction of high speed lines in Spain, with more than 900 km of track built.