22/01/2018
The Prime Minister of Qatar visits the works of the Doha Metro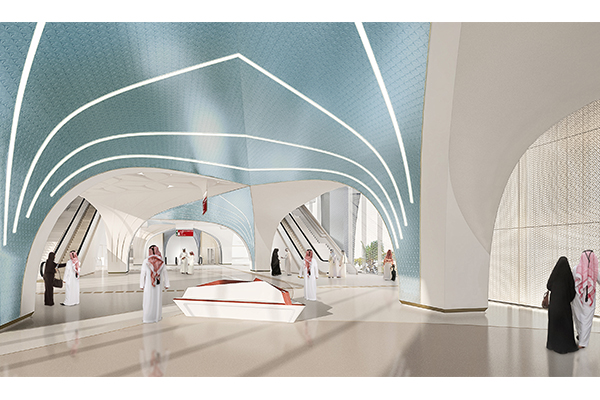 On January 9, the Prime Minister of Qatar, Sheik Abdullah bin Nasser Al Thani, visited the works of the Doha Metro corresponding to the section that FCC Construcción as leader of the FYAP Consortium, is executing in Qatar.
During the visit, the "Economic Zone" station was visited the Prime Minister and the other authorities invited to the event had the opportunity to get on the trains and go through the complete layout of the project. On behalf of FCC, the Director of the Middle East, Yago Mijangos, as well as the responsible country of Qatar and Project Director of the contract Ignacio Poyales, attended the visit. Also attended by the CEO of Qatar Railways, his Ex. Abdulla Abdulaziz T. Al Subaie, who congratulated the FCC representatives for the quality of the work done and the professionalism and commitment shown during the execution of the project.
About Doha Metro
The project includes the construction of the elevated section of the red line RLS of the Qatari capital as a continuation of the red line RLS Underground. It´s a section of 6.97 km of metro line, with three elevated stations, with the names of Barwa Village, Al Wakra and Qatar Economic Zone.
The section executed by FCC, within the Line North Elevated, constitutes one of the most advanced with respect to the totality of sections that diverse international construction companies are executing. The viaduct is completely finished, and the stations are in the final phase of architectural finishing and testing of electromechanical equipment.
The success of FCC in this project has served to have been prequalified for the next phase of expansion of the Doha Metro, the expansion of the green line. This project is currently under technical evaluation by the client.
You can get more information about the Metro Doha project in: https://www.youtube.com/watch?v=O2InXLrH1H0