03/02/2017
The Minister of Public Works visits works underway on FCC-built Almonte Viaduct
The Minister of Public Works, Iñigo de la Serna, paid a visit to works on the viaduct built over the Almonte river. Located in the Alcántara-Garrovillas reservoir section along the high-speed railway line between Madrid and Extremadura, the structure is being built by ADIF.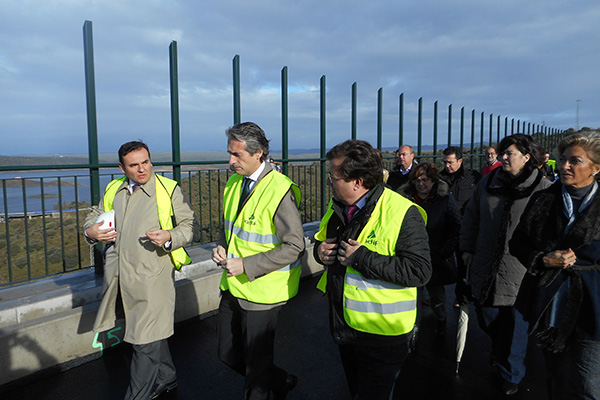 It is one of the most important engineering projects currently underway in Spain. When completed, the viaduct will be a global benchmark for high speed rail due to its characteristics and size.
The minister was accompanied by the President of the Regional Government of Extremadura, Guillermo Fernández Vara; Cristina Herrera Santa-Cecilia, delegate of the government; Juan Bravo, Chairman of ADIF; Santiago Cobo, deputy director of construction at ADIF AV; and Pablo Jiménez, area manager at ADIF AV. FCC Construcción was represented by José Antonio Madrazo Salas, area manager for Spain South Zone; Pedro Cavero de Pablo, manager of the Transport Office; and José Luis del Valle Sanchez-Prieto, site manager on the project.
The ADIF team led by Pablo Jiménez Guijarro briefed the minister about the technical details of the construction process on a project with such unique characteristics.
The viaduct over the Almonte river, found between the municipalities of Alcántara and Garrovillas in the province of Cáceres, is 996 metres long and has a 384-metre central arch-type span, giving it a world record-breaking status in terms of high-speed railway arch bridges.
It will be the third largest arch bridge in the world, regardless of railway use. It comes behind the Wanxian bridge in China, which is 420 metres long, and the largest of the bridges between the Sveti Marko and Krk islands in Croatia, which is 390 metres long. The Almonte viaduct represents a huge technical challenge that secures Spain's place internationally at the forefront of international high speed engineering projects.