The Doha subway, built by FCC Construcción, awarded by the international magazine ENR, best subway project in the world in 2018
12/07/2019
The Doha subway, built by FCC Construcción, awarded by the international magazine ENR, best subway project in the world in 2018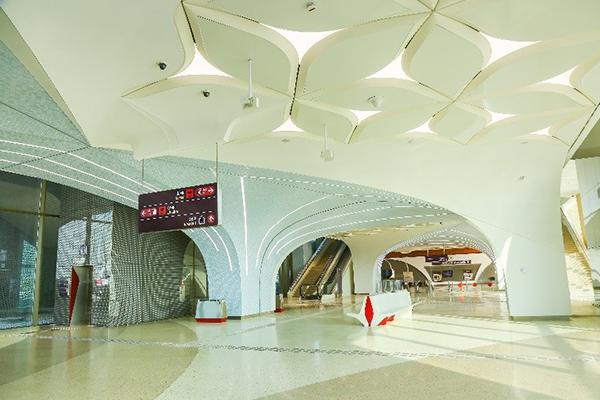 The red line of the subway of Doha, has been winner, by the international magazine ENR, best subway project in the world in 2018.
The work executed by FCC has been the Red Line South Elevated & At Grade, with 7 kilometers of elevated section and three stations. Among the reasons for the agreement are the high economic, social and sustainability impact (sustainable mobility) and the fulfillment of the SDGs that the design, construction and operation of the metropolitan ones, in particular, of the Doha Metro, in Qatar.
The red line extends from Al Qassar station to Al Wakra station, some 40 kilometers in length. This commissioning is key to meeting the transport connection deadlines, necessary for the 2022 soccer World Cup. This recently inaugurated line will transport the fans of the Al Wakra Stadium to the Lusail Stadium in the near future. will play World Cup matches 2022. The complete metro network, which will open in 2020, will have three lines - red, green and gold - will consist of 37 stations and 85 km in length. Future extensions of the subway will include the introduction of an additional line (Blue) and the expansion of existing ones, with 65 additional stations, with a first expansion completed in 2026.
The award ceremony will be held in New York, next October 02.
You can see the winners by accessing the link.
FCC Construcción and Doha Metro
The project includes the construction of the elevated section of the red line RLS of the Qatari capital as a continuation of the red line RLS Underground. It is a section of 6.97 km of metro line, with three elevated stations, with the names of Ras Bu Fontas, Al Wakra and Free Zone.
The section executed by FCC, within the Red Line, has constituted one of the stretches of greater advance of execution with respect to the totality of sections that diverse international construction companies have developed.
You can get more information about the Metro Doha project at: https://www.youtube.com/watch?v=O2InXLrH1H0
Subscribe to our YouTube channel.