Former Vice President Joe Biden visits the Gerald Desmond bridge project, executed by FCC Construcción
24/01/2020
Former Vice President Joe Biden visits the Gerald Desmond bridge project, executed by FCC Construcción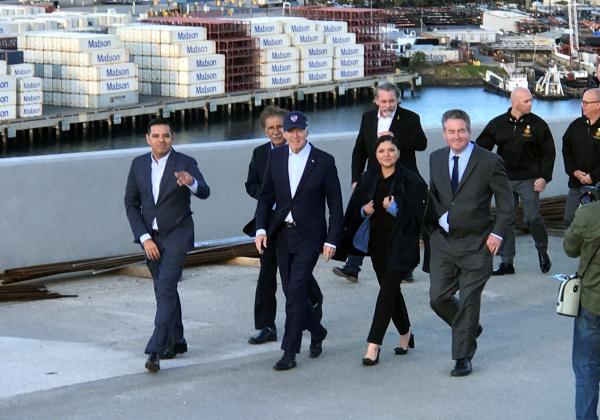 Former Vice President of the 44 US Government, Joe Biden, visited, accompanied by the mayor of Long Beach, the Port of Long Beach Executive Director and other public representatives, the Gerald Desmond Bridge project, built by FCC Construcción.
Biden met with the project teams and explained the importance of this infrastructure for Californian commerce. In turn, he stressed the need for infrastructure projects such as the one FCC develops.
FCC Construcción executes the project to replace the current Gerald Desmond Bridge, built in 1968 on the Back Channel of the Port of Long Beach, for reasons of security against the earthquake, due to the growth in traffic expected in the coming years and the need for greater vertical gauges for current container ships.
The main structure is resolved by a cable-stayed bridge with a main span of 305 meters in length and located 61 meters above the Back Channel and two extreme spans of 152 meters. The project includes the approach structures on Ocean Boulevard, the reconfiguration and improvement of two links, the construction of a bicycle lane along the route and the diversion of the affected services.
The approach bridges to the cable-stayed section are 900 meters long on the west side and 1,155 meters long on the east side.
We invite you to see the media coverage of the visit: