The Amancae team, led by FCC Construccion, presented the preliminary design of the new Jorge Chávez International Airport in Lima
13/11/2018
The Amancae team, led by FCC Construccion, presented the preliminary design of the new Jorge Chávez International Airport in Lima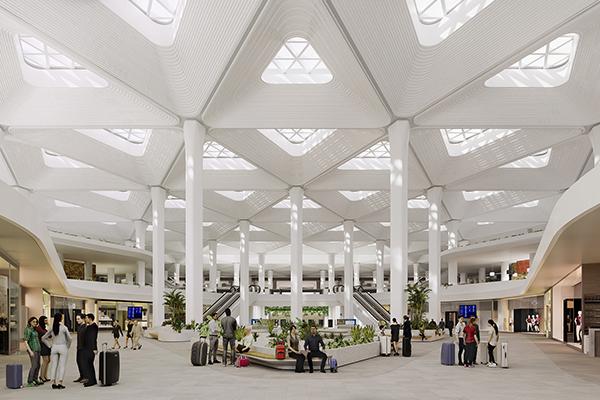 The Amancae team and Lima Airport Partners (LAP) presented the preliminary design of the new air terminal at Jorge Chávez International Airport. The team formed by the Amancae consortium between FCC Construccion and Salini Impregilo, and with the participation of Aecom as the main design leader, was selected last September as the winning team to execute the most important expansion project in the Peruvian airport sector. . After an exhaustive process of prequalification and competition that lasted nine months and brought together renowned international companies experts in airport construction worldwide, LAP awarded the contract to the Amancae consortium, led by FCC Construccion.
The Expansion Project of the Jorge Chávez International Airport includes the design, construction of a second runway and a new passenger terminal along with its contact and remote platform for aircraft, urbanization works and access to a business complex with new zones. logistics and warehouses, parking areas, a building for facilities and power plant, a new control tower and a building for a fire station.
The terminal, which would start operations in 2024, will have an initial capacity to serve 35 million passengers annually and provides an estimated investment of S /. 4 million daily during its execution.
Additionally, it was announced that, in a second stage, LAP proposes to develop a new airport concept: Airport City. This new proposal will create a link between the city and the airport, which will generate new economic zones that complement both the airport and the city, such as: logistics and cargo areas, business areas, transport zones and free zones; that will be diversified in approximately 150 hectares. This project foresees an approximate investment of US $ 600 million.
Finally, LAP informed that more than 17 thousand families from 46 localities in Callao will benefit from the various programs and jobs that will be created within the framework of the Expansion Project. In that sense, it will be trained and will work hand in hand with the surrounding communities.
FCC Construccion has executed highly complex international airport works, such as the T-1 Passenger Terminal at Barcelona-El Prat Airport, the third runway at Madrid-Barajas Airport, the new T4 passenger terminal at Madrid-Barajas Airport , the new passenger terminal of Riga airport (Latvia), and the Control Tower of El Dorado airport in Colombia.