13/06/2018
The FAST consortium, led by FCC, starts dynamic testing of Riyadh Metro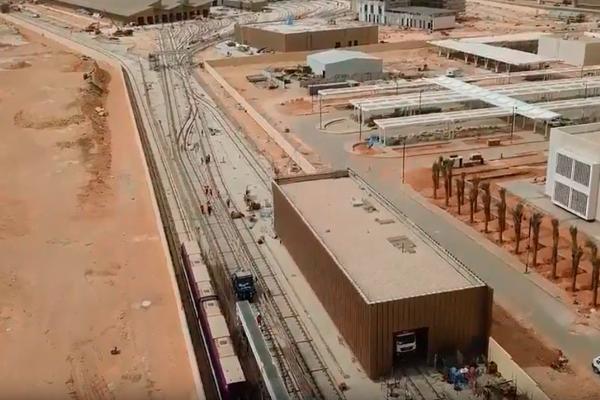 The FAST consortium, led by FCC, has successfully completed the first test on lines 4, 5 and 6 of the Riyadh Metro Project, owned by Arriyadh Development Authority (ADA). The tests include the demonstration of the performance of the railway system, from the power supply to the signaling systems, making use of the trains delivered by Alstom to the consortium, earlier this year.
They have been supplied: 69 Metropolis-based Riyadh Metro trains, Urbalis signalling system, Hesop energy recovery station as well as tracks. The Metropolis-based train for Riyadh is composed of two cars per set and is 36 meters long. Each train features three classes: first class, family class and singles class. The trains will offer passengers a high level of comfort, ergonomic seating, LED lighting, air conditioning and passenger information system.
The trains are driverless. The train movements are protected by a state of the art signalling system controlling the speed of the trains, ensuring smooth and safe operations including automatic opening of the train doors. The fully air-conditioned stations are equipped with platform screen doors also preventing people to access the track. The trains are also equipped with an advanced passenger information system delivering real time information to the passengers through screens and loudspeakers on board the train and on the station platforms.
All stations will have air conditioning and will have state-of-the-art security and comfort systems, as well as Internet access, with a commercial space and parking areas. In addition, the project includes a series of iconic stations, designed by world-renowned architects, which will serve as major hubs in the city's public transportation system, created to encourage the use of integral bus and subway networks by passengers coming from areas with a high population density.
The commitment of the Riyadh Metro regarding environmental technology stands out for the use of solar energy, which will help save 20% of energy consumption in the main electrical installations. Likewise, a new energy recovery technology has been implemented through the "return" to the network of the braking energy of the trains in their approach to the stations.
Access our YouTube channel to watch the video
About the Riyadh Metro
Package 3 of the Riyadh Metro led by FCC has 64 kilometers of track, 26 stations and two depots. The Riyadh Metro is the largest metro in the world under construction with six subway lines that will cover 175 kilometers. When it finishes, it will become the largest automatic metro in the world.
About the FAST Consortium
FAST Consortium is one of the three consortiums contracted by Arriyadh Development Authority (ADA) to design and build the Riyadh Metro Project. The consortium brings together eight international partners; In addition to having FCC Spain, this consortium includes Samsung C & T (South Korea), Alstom (France), Strukton (Netherlands), Freyssinet (Saudi Arabia), Atkins (United Kingdom), Typsa (Spain) and Setec (France). The team of the consortium is made up of more than 10,000 workers of 38 nationalities.