24/03/2021
FCC Construcción ends the II Conference to promote digitization in the company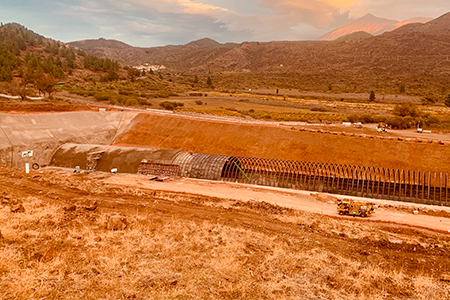 FCC Construcción has finished the II Conference to promote digitization in the company, organized by the SSTTs and the communication department of FCC Construcción. Four days in which almost 300 registered people participated and interacted in the different thematic areas covered. Almost 50 people have presented different actions in round tables, workshops ... presentations have been made on the digitization experiences carried out in works such as the Remodeling of the Santiago Bernabéu Stadium and the A9 (Holland) and E6 (Norway) highways, or Tenerife Island Ring, showing the reality that BIM already supposes in our works. The different sessions have covered topics related to health and safety, topography, innovation initiatives or connectivity, management and information security.
The closing of the Conference was carried out by Jose Antonio Madrazo Salas, director of Spain, Portugal of FCC Construcción as well as of the industrial area of FCC Construcción.
The objective of this action has been to bring the BIM methodology and digitization closer to all the people who are part of the company. The conferences have tried to convey the idea that digitization and the implementation of processes under the BIM methodology imply aligning efforts between all areas of FCC Construcción in a common direction.
This forum has created an ideal environment to open discussions about the needs of the different teams in the company, both at the central and site level, from the bidding phase to the delivery of our projects.
Faced with the digital transformation process in which society and our sector are immersed, the implementation of the BIM (Building Information Modeling) methodology has become an imperative for our business strategy, based on continuous improvement and operational efficiency.
BIM is already a requirement demanded in a large part of the countries in which FCC currently operates and its demand in the different markets will be increasing. In Spain, the plans of the Ministry of Development indicate BIM methodology requirements in public building tenders from December 2018 and a year later in civil works.
With regard to our company, in the construction area of FCC, numerous works have been started under this work methodology, mainly in the international arena (metro lines in Doha, Riyadh and Lima).
At FCC Construcción we remain committed to innovation, clearly showing our ability to research and develop projects that allow us to continue leading the sector.