RESEARCH IN EMERGING TECHNOLOGIES TO ACHIEVE CYBER SECURE AND RESILIENT INFRASTRUCTURES

CYBERSEC (Research in Emerging technologies to achieve Cyber Secure and Resilient Infrastructures) es un Consorcio de I+D multisectorial y multidisciplinar con colaboración efectiva, formado por 8 empresas tecnológicas y de gestión de infraestructuras de primer nivel, lideradas por VODAFONE y apoyadas por 5 Organismos de Investigación de referencia en España.
El objetivo del proyecto CYBERSEC es investigar en diversas tecnologías, técnicas, herramientas, metodologías y conocimiento dirigido a desarrollar soluciones tecnológicas para la securización frente a Ciberataques de entornos conectados de alta criticidad, tales como la Industria 4.0, las Smart Cities o las Infraestructuras críticas.
Las nuevas tecnologías digitales están siendo adoptadas de forma masiva en prácticamente todos los sectores socioeconómicos, desde la industria a la agricultura, pasando por la salud, la defensa, la edificación o la gestión global de servicios públicos. Así mismo, las tecnologías digitales se encuentran en continuo desarrollo, proporcionando nuevas y mejores soluciones. Todo ello supone una importante mejora en la gestión de prácticamente todos los procesos socioeconómicos, en términos de reducción de costes, mejora de la calidad, generación de nuevos servicios, democratización de la información y mejora de las experiencias de los usuarios.
Sin embargo, este alto nivel de digitalización, junto con la continua profusión de nuevas tecnologías, genera importantes vulnerabilidades de los sistemas, que son explotadas por ciberdelincuentes (hackers) para la realización de ataques con el fin de interrumpir el servicio, el robo o secuestro de la información almacenada o la suplantación de identidad. Además de los ataques, estos sistemas también están expuestos a fallos del sistema, errores humanos e interrupciones del entorno.
El Centro para el Desarrollo Tecnológico Industrial (CDTI), dependiente del Ministerio de Ciencia e Innovación, ha concedido una ayuda para el desarrollo del proyecto "CYBERSEC: RESEARCH IN EMERGING TECHNOLOGIES TO ACHIEVE CYBER SECURE AND RESILIENT INFRASTRUCTURES" dentro de la convocatoria del Programa Estratégico CIEN-20200003, con número de referencia IDI-20201114.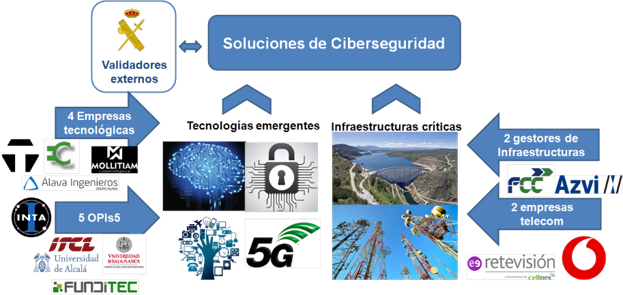 2020-2024