18/05/2018
La obra Mersey Gateway, ganador de los prestigiosos premios RICS North West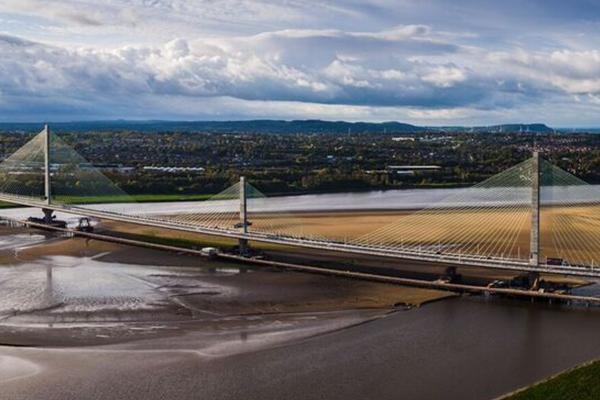 La obra Mersey Gateway ha resultado ganadora en las categorías "Infrastructure' y 'Overall Project of the Year' de los prestigiosos premios RICS North West. Gracias a la consecución de estos premios, la obra Mersey Gateway podrá competir con otros ganadores para la obtención del premio Project of the Year Award de Reino Unido.
El pasado mes de Enero, la obra de FCC Construcción, Mersey Gateway, fue protagonista de la prestigiosa revista New Civil Engineer. En el artículo principal de la revista se realizó una descripción sobre el nuevo puente así como el objetivo principal de esta gran obra civil, reconocida por KPMG entre los 100 proyectos de infraestructuras más importantes del mundo.
El puente tiene una longitud total de 2.248 metros, con un tramo central de 1 kilómetro aproximadamente y dos viaductos. Dispone 4 vanos soportados por tres pilonos en el estuario de Mersey. Esta obra singular tiene un único diseño. El pilono central alcanza los 80 m de altura y es más bajo que los otros dos pilonos, con 110 metros el del lado norte y 125 m el del lado sur, se han empleado 1,296 km de cables conectados con estas pilas al tablero del puente. La nueva red de carreteras incluye un total de 12 puentes y 7 nuevos enlaces, con 127.425 m3 de hormigón utilizados en la obra. La obra se ha realizado con los más altos estándares medioambientales, el diseño del puente ha seguido la premisa de mínima afección al medioambiente, 1.423.225 de toneladas de materiales han sido recuperados y reutilizados en la construcción.
Durante todo el proceso de construcción, operación y mantenimiento del nuevo puente se han empleado alrededor de 4.600 personas tanto directamente como indirectamente. El proyecto beneficiará no solamente al área de la región de Liverpool, con una población de más de 1,6 millones de habitantes, sino también al área noroeste de Inglaterra.