11/12/2017
FCC Construcción recibe el premio de New Civil Engineer Tunnelling por la obra Túneles de Bolaños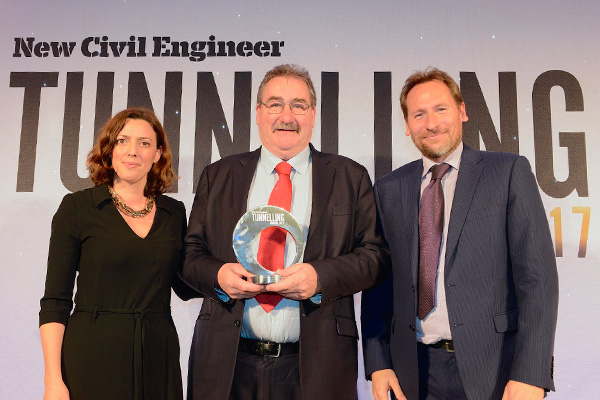 FCC Construcción ha sido galardonada en la categoria "Geotechnical Specialist Innovation of the Year" de los premios New Civil Engineer Tunnelling 2017, por los trabajos desarrollados en la obra tuneles de Bolaños, correspondientes a la línea de alta velocidad Madrid-Galicia. El proyecto fue preseleccionado en la categoría "Technology Innovation of the Year" y Outstanding Contribution.
Los ganadores fueron anunciados en Londres el pasado, jueves 7 de diciembre en el Grosvenor House Hotel, Park Lane. A los premios asistieron más de 400 líderes del sector de infraestructuras.
Los túneles de Bolaños, forman parte del Corredor Norte-Norte de Alta Velocidad, Línea de Alta Velocidad Madrid-Galicia: Vía Izquierda Vilariño, cruzando la zona comprendida entre Vilarino de Conso y Campobecerros donde se encuentra el embalse de Porta. Los trabajos en los túneles de Bolaños incluyen la ejecución de dos túneles paralelos de una sola vía, excavados por un tuneladora de roca. Los túneles de 6.785 km de longitud, incluyen secciones de corte y cobertura de 18 y 57 m respectivamente. Con la excepción de 15 m en el extremo oriental y 70 m del extremo occidental, la mayor parte de la longitud del túnel se ha construido mediante tuneladora, debido a los condicionantes geológicos y la longitud de los túneles.
El jurado de los premios, destacó la solución innovadora desarrollada por su equipo de Servicios Técnicos. Se desarrolló un nuevo procedimiento de tratamiento del material excavado mediante el uso de espumas de doble componente en algunas partes del túnel, junto con un sistema de inyección y sistema de perforación mixta. A pesar de la geología, la innovación desarrollada, permitió al equipo alcanzar buenas tasas de excavación que superaron los pronósticos.
Con este premio, las obras de FCC en el túnel Bolaños han sido preseleccionadas en un total de seis concursos este año: Ground Engineering Awards (International Project of the Year Award, Award for Technical Excellence) y NCE TechFest Awards (Best Use of Technology - Smart Materials). El año pasado, el FAST Consortium liderado por FCC también fue ganador Global Tunnelling Team of the Year en los New Civil Engineer Tunnelling Awards por su trabajo en el proyecto Riyadh Metro.
En la actualidad, la red ferroviaria de alta velocidad de España es la segunda más importante del mundo, después de China. FCC Construcción ha estado involucrada en su desarrollo, con más de 900 kilómetros ejecutados de los 3.100km totales. FCC ha trabajado en innumerables proyectos ferroviarios de todo tipo, tanto en términos de infraestructura y superestructura: metro, tranvía, mantenimiento y renovación de líneas existentes, como en la construcción de nuevas estaciones y terminales en grandes ciudades.