19/10/2018
FCC Construcción participa activamente en el VII Congreso Nacional de la ATPYC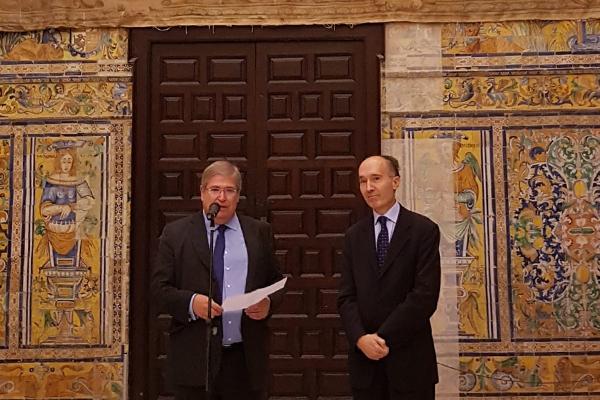 FCC Construcción ha participado en el VII Congreso Nacional de la ATPYC (Asociación Técnica de Puertos y Costas), celebrado en Sevilla del 17 al 19 de octubre. La apertura del Congreso fue desarrollada por la presidenta de Puertos del Estado, el presidente de la Autoridad Portuaria de Sevilla, el Consejero de Fomento y Vivienda de la Junta Andalucía, el presidente de la ATPYC y Director Técnico de FCC Construcción, Francisco Esteban, entre otros representantes locales.
Este VII Congreso Nacional se ha consolidado como el evento de referencia entre la comunidad técnica española en los sectores portuario y costero. Este evento se ha organizado de forma simultánea con la cuarta edición de los Mediterranean Days de PIANC. Una iniciativa que se lleva a cabo de forma conjunta con las Secciones Nacionales de Italia y Francia, pero con vocación de apertura a otras naciones del ámbito mediterráneo y del conjunto de PIANC.
El lema elegido para esta edición ha sido "Working with Nature", Trabajando con la naturaleza. Una forma de actuar, puesta en marcha desde hace años por PIANC, que resulta estratégica. Working with Nature supone un significativo paso adelante al plantear las actuaciones a partir del aprovechamiento y mejora de los propios procesos naturales para la consecución de los objetivos específicos de las infraestructuras de la navegación. De esta manera, se promueven soluciones proactivas que permiten alcanzar los objetivos perseguidos en materia portuaria, costera y de vías navegables de forma conjunta, simultánea e inseparable con el aprovechamiento de las oportunidades y mejora de las cualidades ambientales del entorno natural.
El Comité Técnico, integrado por representantes de las Secciones Nacionales de España, Francia e Italia, eligió una temática general del Congreso que incluyó campos como la gestión sostenible de puertos y costas, la adaptación al cambio climático, el desarrollo de cadenas logísticas sostenibles o la gestión del frente costero. Todo ello sin abandonar los campos más tradicionales de la actividad de la Asociación y de PIANC, como son la planificación y gestión de infraestructuras o las experiencias e innovaciones en materia de diseño, construcción y explotación de nuevas obras portuarias y costeras, que siempre resultan del máximo interés y actualidad para nuestros socios, tanto a nivel nacional como internacional.